Click on AA Meeting Schedule below for larger view …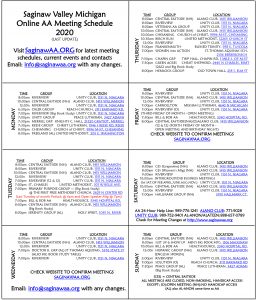 ATTENTION: The SVSU Saginaw Valley State University "Time to get real"  6 p.m. AA meetings will no longer be held until this Fall Semester. We are sorry for the changes and hope everyone can understand.
Also, The Saturday night St. Charles AA meetings have been cancelled. And the Unity Club's Monday through Friday 6:30 a.m. AA meeting has been canceled until further notice.
NOTE: If you haven't been to a new meeting location get to the meeting a little bit early so you can see what door everyone is going into. Sometimes it's not obvious where the meetings are being held!
For the current 2020 Saginaw Area Meeting Schedule, click on the Online link below to open the schedule; requires a PDF reader, such as Adobe Reader, available here:  Adobe Link Here.
Click on this link below for the Current Saginaw Valley Michigan Online 2020 Online AA Schedule
This Online Meeting Schedule is always up-to-date provided we've been given notice of any changes.  If you know of a change to a meeting, please email us details to: info [at] saginawaa [dot] org
The 2019 Folded Paper Schedules are $10 a bundle (50 schedules). The schedules are kept in the office at Unity Club and sale information will be posted on the closed group FB pages so that groups can arrange to get their new schedules through Larry S. or Stephanie G. The 2020 Schedules will be available sometime in late January or early February.